Fun Palace Saturday 3 October and Sunday 4 October
Everyone a scientist. Everyone an artist. Wells Way Pop Up will lead a Fun Palace in Burgess Park. We will be exploring some practical scientific questions about Burgess Park wildlife plus Wells Way Pop Up arts and theatre activities.
Saturday: 2.00pm to 6.00pm  – Sunday: 12.00 to 6.00pm FREE
At the Fun Palace London Wildlife Trust will launch the first of seasonal wildlife surveys in Burgess Park to capture information about birds and insects. Volunteers are needed to help with these surveys on a regular basis.
The surveys and sightings about the birds and insects will build into a map over the week-end. Art sessions with Poppy Green (Saturday) and Elle Salt (Sunday).  Explore Burgess Park wildlife with drawing, stenciling, photography. Everyone can have a go and help create a wildlife map of images.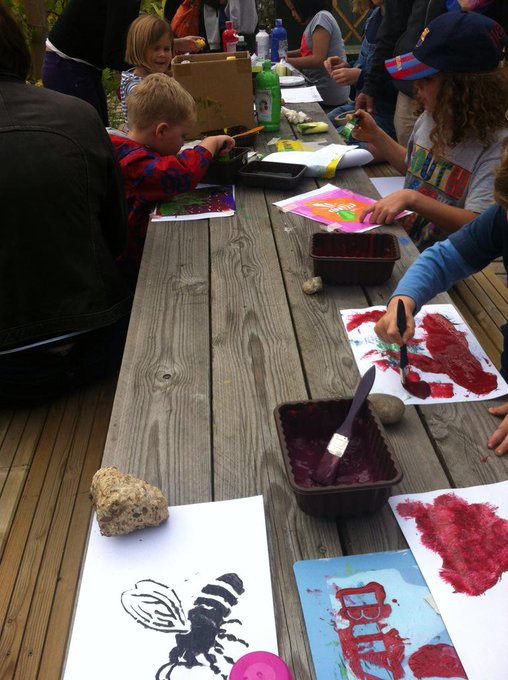 Fun Palaces take place in October and are run by many different organisations for arts and science to be creative fun activities at the heart of local communities.
FREE Film Festival Friday 25 and Saturday 26 September
Films start from 7.30pm with a local short followed by the main film.  This is the fifth film event in the park run by Friends of Burgess Park. The film will take place behind the Wells Way Pop Up, Old Library, Wells Way SE5 0PX. Following a community vote the films are Grease on Friday 25 and Despicable Me on Saturday 26. Popcorn on sale  and refreshments available from Wells Way Pop Up. Supported by Southwark Council Neighbourhoods Fund.
Open House Saturday 19 and Sunday 20 September 1-5pm
Come along and have a look around the old library, bath and washhouse on Wells Way, see our exhibition about the Making of Burgess Park and find out more about future plans for the building. Old Library, Wells Way SE5 0PX (Step access into the building) Toilets and cafe available.
More details about the buildings here.          Bridge to Nowhere blog.
Elephant and Nun 15 August 2015
FOBP stall  talking to park users about cycling in Burgess Park
Walk with Prof James Hitchmough
Sat, 8 August, 11 am – 1 pm
The international landscape designer will lead the Burgess Park walk which starts at the tennis courts (SE5 7JZ) and includes the swales, the mounds, and ends at St George's Garden.
The unique planting style in Burgess Park on the meadow slopes and St George's Gardens was designed by Professor James Hitchmough.
Sometimes called "prairie planting" or the "Sheffield style", Professor Hitchmough has perfected a system which blends native species with planting from around the world. This new urban grassland is alive with colour.
This informal led walk along the length of Burgess Park will cover the meadow slopes (Camberwell/Walworth Road) to St George's Gardens (St George's Road/Trafalgar Avenue).
James Hitchmough celebrated for the London 2012 Olympic gardens, wildflower meadows, and horticultural planting, devised the meadow and prairie-like elements sown in January 2012 as part of the Burgess Park revitalisation designed by LDA. The scale of the elements has meant establishment and management have been challenging; the north slopes comprise a ground layer of sown, shade-tolerant, mainly woodland perennials from which emerge summer and autumn flowering, tall perennials. The West facing slopes support a heat and drought tolerant cosmopolitan meadow, running down to a drainage swale at the base. Despite some of the challenges; public response to the "wildflowers" has been extremely positive. In February 2014 the final planting element in the park, a complex garden-like planted/sown area – St George's Garden – started construction.
James Hitchmough is Professor of Horticultural Ecology and Head of the Department of Landscape Architecture at the University of Sheffield, one of the world's leading schools within this discipline.
Find out more about the Heritage Project at Art in the Park  Wells Way Pop Up  Passmore Edwards Library, is now open with regular events include yoga class, plus various events at week-ends; music, theatre, quiz, family fun and more. Glengall Wharf Garden  community food growing. Regular weekly volunteering an opportunity to learn food growing and share the harvest, perma-culture course, bee-keeping and many one-off events.
Many sports groups operate in the park, holding weekly sessions for adults, young people, and children. Find out more about the Summer Sports Camp for boys and girls from 20 July to 7 August